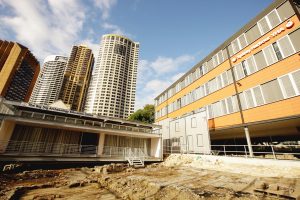 The official name for the site is the 'Cumberland / Gloucester Streets Archaeological Site', however during the major archaeological excavations in 1994 it more often referred to as 'The Big Dig'. The name stuck and has been carried forward as The Big Dig Archaeology Education Centre. Though no longer an 'active' dig site, The Big Dig now plays an equally important educational role. The centre facilitates study of the archaeological remnants and a selection of artefacts, offering students a fascinating insight into The Rocks and Australian history, from the early Colonial period through to Federation and World War I.
The Big Dig Archaeology Education Centre is available for use by domestic and international education groups who are interested in learning about the archaeological and historical significance of the site. This includes schools and tertiary educational groups, and archaeology and heritage groups, many of whom choose to stay at Sydney Harbour YHA directly above the site.
The Big Dig education programs
are presented by Sydney Learning Adventures. These programs concentrate on the history of the Cumberland/Gloucester Street neighborhood in the wider context of The Rocks, as well as the archaeological excavation methods used during The Big Dig in 1994.
Facitilies
The centre consists of two classrooms, each seating up to 50 students, which can be combined to seat 100 people theatre style. The centre has luggage storage, toilet facilities and a simulated archaeological dig area for primary students. Students are also given access to observational areas within the dig site. Each classroom is fitted with digital projector and screen.
Education Centre Hire
The centre is available for hire for small meetings and presentations, but is generally only available on weekends and in the evenings when the centre is not reserved for archaeology education programs. For further information please contact the Sydney Harbour YHA's Education Officer at thebigdig@yha.com.au or on (02) 8272 0915.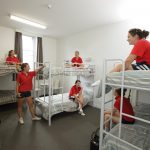 Group Accommodation at Sydney Harbour YHA
Groups coming to Sydney to take part in an education program at The Big Dig can also stay directly above the dig site at Sydney Harbour YHA. The hostel caters for groups of up to 110 people. All rooms have en-suite bathrooms, and groups have a separate dining and lounge room with an adjacent luggage storage room. The hostel has 24-hour reception and security.