SYDNEY LIVING MUSEUMS   Susannah Place Museum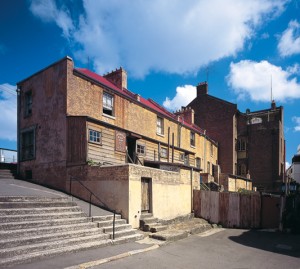 Susannah Place Museum is just across the road on Gloucester Street, and is a remarkable surviving example of the type of terrace housing that was once on The Big Dig site.
The museum runs educational programs which complement The Big Dig programs.
For more information visit: Sydney Living Museums
---
KOTAHI TOURISM   Poihakena Tours: Stories of Maori in Sydney
Curriculum links: HSIE, History.   Years: 3 – 12
Led by Maori guides, Poihakena walking tours visit sites in The Rocks where Maori have visited, traded, lived, loved, worked and died since 1793.  Tour content explores the role Maori played in the early years of the NSW Colony, through to the rich Maori culture in Australia today where one in five Maori now live.  The program begins at Campbells Cove and ends at The Big Dig Archaeology Education Centre. Optional hangi lunch.
Duration: 2 hours      Cost: $13 per student
For more information visit: Poihakena Tours