On Tuesday 25th October 2016 we celebrated a significant milestone; over 50,000 students have participated in archaeology education programs at The Big Dig Archaeology Education Centre!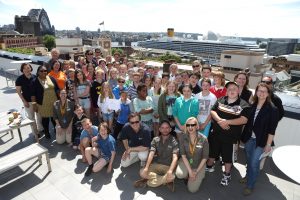 The Hon Helen Coonan joined Mr Julian Ledger, CEO of YHA Ltd, in congratulating all those involved in running the programs and acknowledging the very successful collaboration between Sydney Learning Adventures and Sydney Harbour YHA. Students from Tumbarumba Primary School, who stayed at Sydney Harbour YHA and had just finished their 'Pieces of the Past' program, joined the celebrations on the rooftop terrace. It was the perfect opportunity for photographs!
The Big Dig education programs were launched in 2010. They were developed by Dr Louise Zarmati to give students' experiential hands-on learning and to bring Australian Colonial History to life.
It is one thing to read about the extraordinary history of The Rocks, but far more engaging to be where it is preserved in-situ. At The Big Dig students are given access to a real archaeological site which looks much the same as when excavation work ended. Primary students then dig in a simulated excavation to find artefacts and recreated building remnants. Secondary students engage in hands-on analysis of genuine artefacts from the site, artefacts which the people who lived here once used. This is all tangible history, making all the engaging stories about the people who lived here just a little more 'real'.
The feedback from teachers and students has been fantastic. To quote one teacher "The children were engaged and loved visiting the site, hearing the stories, and handling the artefacts. They were excited from the minute we arrived.  The highlight was the artefacts analysis and the digging."