Archaeology in The Rocks will not be run as a one-day standalone program in 2017.  Sydney Living Museums will continue to offer their Archaeology in The Rocks program from Susannah Place Museum (just across the road from The Big Dig site).
In 2017, Sydney Learning Adventures will be offering an extended full-day option on The Big Dig Groundwork program.

Groundwork – Extended (Full day program)
Stage 6 Ancient History / History Extension / Stage 5 Elective History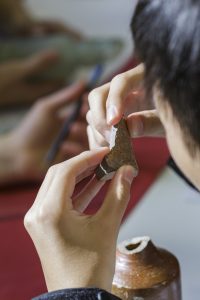 How do historians and archaeologists investigate the past? What types of questions do they ask? What ethical issues are involved in the excavation, conservation and interpretation of a site?
This full day (9.30am – 2.15pm) program incorporates all components of the Groundwork: Archaeology at The Big Dig program with additional visits to two other sites in The Rocks. There are no set dates for the program – bookings will be taken on request, depending on availability. The program cost $25 per student, with a minimum of 20 students.
The program components will include:
Archaeology presentation
Tour of The Big Dig archaeological site
Hands on artefacts analysis session
Visit to a second archaeological site in The Rocks
Guided tour of The Rocks Discovery Museum
Students use written and archaeological sources to undertake an inquiry based investigation. They examine the lives of a number of men and women who lived and worked in The Rocks during the 19th century, and consider the impact the industrial revolution had on their lives and on the sociocultural identity of The Rocks.